under EXPOSed
MONTREAL'S VLADIMIR GUERRERO IS A SUPERSTAR
WHAT HE ISN'T IS FAMOUS
Jupiter - Sunday April 1, 2001
Montreal Expos manager Felipe Alou is 65, exactly four decades deeper into this quirky baseball business than Vladimir Guerrero, and still he feels he lacks "the stature" to overload the game's most mysterious megatalent with time-tested, traditional wisdom. "I was a decent player, that's all I was," says Alou, downplaying his .286 average over 17 major league seasons and his trailblazing status as the second Dominican ever to reach the bigs. "This guy Vladimir is a monster of a player. He tries some things I never tried, some things I never could."
Statistics have no place in this part of the discussion, though Guerrero's offensive numbers do correlate nicely at this age with the earliest legends of Joe DiMaggio and Ted Williams. Look, instead, at the improvisational ease with which the Expos' prime exposition attacks each challenge. Stick a 3-1 slider down around his ankles, begging the guy to take a walk, and he'll corkscrew it off the right field foul pole for an opposite-field home run. Send him chasing out to the warning track in pursuit of a classic gapper andhe'll come up firing with an otherworldly arm that turns lazy stand-up doubles into frantic face-first bellyflops. Slice a foul ball 10 rows deep into the stands and he'll sprint to the wall just to verify he had the angle on the play all along and the will, if only the field were as boundless as his enthusiasm, to complete it. "It's amazing," Sammy Sosa, the smiling Dominican slugger whose name America knows by heart, says of Guerrero, a bashful bruiser happily hidden away in the hockey homeland of French Canada. "I don't know how he does it. I just want to know how."
Sammy's got a much better chance of stealing Guerrero's secrets than we. Guerrero grants precious few interview requests by the English-speaking media, the offered assistance of an interpreter notwithstanding. There were a few
casual comments as he arrived at the Expos' Jupiter complex for spring training this year but nothing deep. "I'm just ready to do what I always do," Guerrero said, and in truth not much more needs to be said. Oh, there was some joking about Guerrero's new hairstyle, a random field of tight and tiny knots that inspired some teammates to begin calling him "Coolio." There was a quick one-liner about the new expanded strike zone, too. On that, Guerrero said, "I'm a free swinger. They can put it anywhere...third base, first base, left field. It doesn't matter." To do what he always does, however, Guerrero, the .322 career hitter needs only to be left alone, left to the rituals and rhythms of a boyhood he is in no hurry to cast aside just because that floppy No. 27 Expos uniform from a few years ago has been stretched tighter and tighter to fit the 6-feet-3, 210-pound frame of a thoroughly mature, 25-year-old athlete.
Guerrero's mother, Altagracia Alvino, will be waiting in Montreal on Thursday night when the team arrives from Chicago to begin the first homestand of the regular season. She cooks the meals for Guerrero, always doubling and tripling the recipe to make more welcome the visits by the Expos' many other Latin players, and she, in partnership with other family members shuttling back and forth from the Dominican Republic, cares for 2-year-old Vladimir Guerrero Jr. it is so comfortable in the apartment that Guerrero seldom ventures anywhere else around Montreal but the ballpark, regardless of the many flamboyant ways a man might otherwise find to spend a five-year $ 28 million contract. "In my personal opinion, he's like an angel," says Jesus Campos, Guerrero's roommate when Guerrero first left the Dominican Summer League in 1994 to join the Expos' Gulf Coast Rookie League team at the old West Palm Beach Municipal Stadium. "He wants to stay to his side. He will talk to people he knows, his people. He avoids bad things that are going to get his mind to the negative."
Some wondered if the departure of Guerrero's older brother might mess with his mind. Wilton Guerrero played for Montreal for three years and was Vlady's constant companion, often providing interpretation and guidance. Then the Expos developed a younger All-Star second baseman in Jose Vidro and decided last December not to renew Wilton's contract. He signed with Cincinnati this spring, establishing an almost daily phone contact between Jupiter and the Red's camp in Sarasota. One of the hotter topics the brothers discussed was the line drive Wilton hit off the glove hand of Boston ace Pedro Martinez in a mid-March exhibition game. Martinez, another Dominican, was with the Expos in 1996 when Guerrero made the jump from Class A West Palm Beach, to Class AA Harrisburg, up to Montreal, and Martinez treated the nervous newcomer like family, inviting Guerrero, then 20, to stay in his apartment for the duration of his September call-up. Wilton, according to Campos, is referred to as "The Mayor" by his younger brother. Martinez is called by Guerrero "my father."
"That mountain of a man isn't going to be effected by anything like his brother not being here," Alou said. "He could play without his brother, without his father, he could play without a manager. We don't have anything to do with the way he plays. "One of my goals, about five years ago, was to manage long enough to manage this guy for one year. Now I have had four years with him. He didn't let me down."
How could he ? Vladimir Guerrero, who according to legend arrived for his original tryout at the Expos' Dominican Baseball Academy on the back of a friend's motorcycle and stepped into the batting cage in mismatched shoes, is a one-man rotisserie league.
Last year he placed in the top five of seven National League hitting categories. Sosa had more home runs (50 to 44) and RBI (147 to 123) but only Colorado's Todd Helton, playing half his games in homer-happy Coors Field, topped Guerrero's combination of hitting for power and average. Helton won the NL batting average and RBI titles (.372 and 147). Guerrero, meanwhile, was no lower than fifth in any of the Triple Crown categories, including a career-high .345 average that trailed only Helton and Moises Alou.
Atlanta Braves center fielder Andruw Jones, the defensive wizard so frequenttly compared to Guerrero when both were coming up through the minors, has fallen slightly off the pace. Jones had 199 hits last season, third in the league, but Guerrero was right behind at 197. On no other important list, even the speed-burning category of triples, did Jones lead his rival into the top 10.And how about the American League's salary sultans, Alex Rodriguez, Derek Jeter and Manny Ramirez ?
Guerrero is signed through 2003 at an average rate of $ 5.6 million per year. The salaries of the other three range from $ 18. million to $ 25.2 million per year. Put them all together, however, and the only places where Guerrero takes a back seat based on last year's major numbers are batting average (Ramirez hit .351 to Guerrero's .345) and RBI (A-Rod had nine more than Guerrero with 132)."Vlady is so young that there's still raw talent out there," said Tim Raines, who debuted with Montreal in 1979 when Andre Dawson was just starting out and returned to the Expos this spring as a non-roster invitee. "You might see a McGwire-type season from him. I wouldn't be surprised to see him win a Triple Crown some year. It's a lot of fun playing with a guy like that, watching him play every day. Only Expos players get to do that day in and day out."
That's because the Expos rarely appear on national television and haven't been to the playoffs since 1981, when Guerrero was a 5-year-old begging to get picked for a stickball game in the dusty streets of his village of Nizao Bani. Of course, what the Expos did or didn't accomplish in decades past has no particular relevance to Guerrero. He didn't grow up glued to nightly baseball highlights from the United States. Truth is, he's growing up right now."I dedicate all my time to baseball," Guerrero said at the Expos' 1997 spring training camp, "because when you come from where I came from, you don't want to risk anything." Guerrero batted .358 that spring with four homers and, at 21, was the only rookie to make the major league roster.
In the final South Florida exhibition game, however, he fouled a ball off his left foot and broke a bone. That injury, plus a broken hand in July, limited him to half a season, but still he hit .302, drove in 40 runs and threw out four runners at home plate. Scott Rolen of the Phillies got Rookie of the Year honors but he struggled with a bad back last season and hit only 26 homers. Whom would you rather have in your lineup on opening day 2001 ? "If you could have your pick of any player, and everyone says the thing to do is to get a closer, you have to consider this guy," Florida Marlins manager John Boles said of Guerrero. "He's a player as gifted as just about anybody you could ever want to see with his power to all fields. He hit a couple of homers into the upper deck off us last year and one of them was a knuckleball by Dennis Springer that he hit to left-center.
"It's frightening. Sometimes I think the best thing to say, 'Here it is,' and put it right down the middle because he has such great plate coverage." Alou, accordingly, lets Guerrero go for anything he can reach. Guerrero walked just 58 times last year and 23 of those were intentional, a major league high. "If a guy's hitting .360 or .370, what are you going to tell him, stop swinging at them ?" Raines asks. What you tell the most under EXPOSed superstar in all of sports is as simple as he states it, and no more. Just get ready, and do what you always do. Nobody else, it seems, can.
by Dave George - THE PALM BEACH POST - 4-1-2001
VLADIMIR GUERRERO vs THE GREATS
Montreal's Vladimir Guerrero has played four full seasons in the majors.
Here is how he compares with two great Hall of Fame members and two
of the best of the current group of superstars at the same points in
their major league careers:
| | | | | |
| --- | --- | --- | --- | --- |
| | GAMES | HOMERS | RBI | AVG |
| Vladimir Guerrero | 563 | 136 | 404 | .322 |
| Joe DiMaggio | 534 | 137 | 558 | .341 |
| Ted Williams | 586 | 127 | 515 | .356 |
| Ken Griffey Jr. | 578 | 87 | 344 | .301 |
| Alex Rodriguez | 577 | 143 | 442 | .314 |

TIM RAINES ATTEMPTS COMEBACK
Tim Raines, 41, has 19 years of service in MLB, more than half of these, 10 seasons, with the Montreal Expos, from which he was traded in 1990. Considered one of the three best players ever to don the red, white, and blue of the Expos he returned to them in December 2000, having signed a minor-league contract.
"I missed the game, the camaraderie, a burning desire to continue to play," he explained when asked why he'd give it one more go around. "A lot of it is not wanting to let a disease force me out of the game." Soon after the All-Star break in 1999, Raines was diagnosed with lupus, a disease which attacked his kidneys forcing him to spend the next seven months in treatment. "They treated it like cancer. They went in there really hard," he stated. Many organs can be attacked by lupus. When Raines began retaining fluids (his kidneys were functioning at only 24 percent) he was first tested for a kidney infection. However, upon being diagnosed with lupus he forgot about baseball and concentrated on his recovery. "I wanted to get a feel for what it was I had," he said. "I wasn't really sure." He began to educate himself by contacting other lupus patients and learning that they lived normal lives. He told himself it was not that bad and found out remission was likely.
Following seven months of chemotherapy and other forms of treatment, Raines plotted a comeback. He signed a minor league contract with the New York Yankees a year ago, but a broken toe ended that hope. Then he received a call from the United States Olympic baseball team and spent three months getting into shape looking forward to playing in Sydney. His real desire to return to the big leagues was fueled by what happened next. "They called and asked me if I wanted to participate. I took out three months of my time to get prepared and at the final hour they advised me that they weren't going to include me. It was upsetting the way it was handled," Raines stated. "For a guy to spend 20 some years in the major leagues...to tell me Ican't play against minor leaguers. "The manager of the Olympic team, Tommy Lasorda, never contacted Raines when he was cut.
The next month when he was in Montreal, to be inducted into the Expos Hall of Fame, he approached team management about a possible comeback."I don't know if they thought I was playing around but I kind of planted the seed," he said. Manager Felipe Alou knew Raines was serious and believed he would be a help this 2001 squad. "The only question was his weight and he showed up this spring in better shape than before he left here, "Alou said. "It's like having a special coach on our team and he will really help the young guys." The Expos Class AAA Ottawa Lynx pitching coach Randy St.Claire was a teammate with Raines for six seasons in Montreal and when he took his first look at him he knew why he was attempting a comeback. "To me, he looks like the same old 'Rock'", he said, referring to Raines by his nickname. "If he can do any of the things he did before, and he can contribute to this team, why not stay in it ?"
Raines also has a strong desire to play in at least one big league game agains his son, Tim Raines Jr., who plays in the Baltimore Orioles organization. He wasn't asking for a starting spot, although he wouldn't refuse it. He just wanted a chance. He was one of the few position players who started working out when the pitchers and catchers arrived in late February, often arriving in the clubhouse hours ealier than the remainder of the Expos.In the final days of late March as the spring training games were winding down he was advised that he had, in fact, made the 2001 edition of the Montreal Expos. "I'll accept anything they ask of me. They're going out of their way to give me an opportunity. I just wanted to make the team. I can spot start. I can pinch hit. I'll do whatever is needed."
Special to CANADIAN BASEBALL NEWS - (3-2001)

THE NEED FOR SPEED
The Montreal Expos were last in the big leagues in 2000 with just 58 stolen bases and their manager, Felipe Alou, is expecting more, or rather less, of the same in this 2001 season. "We don't have the speed, it's very simple," stated Alou. "Who is our speed ? Peter Bergeron ? He has speed, but you don't see many stolen bases by him in the minor leagues. I like speed, but you can't use it if you don't have it." It was not too long ago that the Expos ran around the bases as if they were in a track meet. From 1980-1996 they pilfered at least a minimum of 100 bases every season, leading the National League in 1980 with a high of 237. In those years they even had their own special "KING OF THIEVES" camp to give their fastest players a jump-start on the art of base stealing.
However, most of that speed left the Expos with the loss of such players as Larry Walker, Tim Raines, Delino Deshields and Marquis Grissom. As late as 1993 they stole 228 bases but with the exception of one year that figure has declined every season since, to 137 in 1994, to 120 in 1995, to 108 in 1996, to 75 in 1997, to 91 in 1998, to 70 in 1999 before the big drop-off in 2000. The General Manager of the Expos, Jim Beattie, has said his ballclub is not alone with this trend. "Baseball has become a sport of power," he said. You hear guys say if you steal 70 bases, they don't pay you as much in arbitration as if you hit 40 home runs. There are not that many smaller players left because guys are trying to get bigger and stronger."
Not surprising news because the economics of the game makes it easy for players to see that they can make more money by clearing the bases than they can by stealing them. Bergeron, at 6-feet, 190-pounds, knows that he is not going to outslug the big hitters in the game like McGwire, Sosa and Bonds, meaning that he has to manufacture runs any way he can. "Last year was my worst year as far as base running goes," he said. "Whether I was overwhelmed with being in the major leagues for the first year...I'm sure there are a bunch of different reasons why it happened." Over the off-season the Expos had Bergeron play some winter ball just so he could work on stealing bases. The left-handed hitter has been clocked at 3.61 seconds from home plate to first base, so they know he has the speed to carry off the demands of a base-stealer. Now he just has to learn how to do use it successfully and efficiently. "Speed is good with knowledge and the expertise to use it," Alou advised. "But it has to be under control and it has to be professionally used." Bergeron points out a leadoff hitter should be measured on how many runs he scores, not whether he gets into position to score those runs. With Vladimir Guerrero having another big year at the plate, Bergeron was hesitant to take a chance on the basepaths. "We knew we had him coming up, so we didn't want to run into an out," he explained. "With guys like him, with all the homers and doubles he hits, you can score from first base."

Typically, a team gets its speed from second base, shortstop and the outfield. Second baseman Jose Vidro stole five but was caught four times, but Beattie didn't mind because he hit 24 home runs and drove in 97 runs, while shortstop Orlando Cabrera had four steals and was caught four times. The team got its best percentages on steals from Guerrero (8-1) and Terry Jones (7-2). Now with the return of Tim Raines, who led the National League in steals from 1981-1984, he should help greatly in this area. Not necessarily with his 41-year-old legs but, rather, with his accumulated wisdom in this area. "I can't be the one to say, 'Hey, let's start running' if that's not what the manager wants," stated Raines, who stands fifth all-time in MLB history with 807 steals. "But I can teach the art and how to recognize a situation, if that's the type of team we want." Beattie feels that Bergeron can eventually develop into a player who will steal 40 to 40 bases a season, which he did twice in the minor leagues. But it seems it will be another season of station-to-station baseball for the Expos. "I'm not going to send our guys to steal 80 bases," says Alou, "and get thrown out 90 times. We'll just have to keep playing the other way."
Special to CANADIAN BASEBALL NEWS (3-2001

FELIPE ALOU SHRUGS OFF AGE AS CONTRACT WINDS DOWN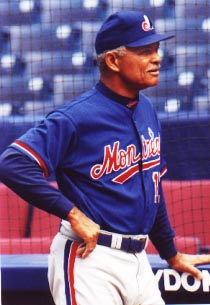 Now that he is the major leagues' oldest manager, Felipe Alou doesn't want to hear that it has become a young man's job. "I want to say something about a young man's job," said Alou, the Montreal manager, who in seven weeks will become 66 years old. "I don't want to offend anyone. I just want to throw this out, that when I was a young man, nobody offered me a job. I just don't want anybody to say, well, now he's too old. When I was 38, I was available. When I was 40, I was available. When I was 50, I was available. Whatever reason the young man Felipe didn't get an offer, I just don't want anybody to say, well, now he's 66. I don't buy that."

Alou just might be the best overlooked manager in baseball history. Highly regarded among his peers and his players, Alou languished in the minor leagues for his first 12 years of his managerial career. He gained his first major league job with the Expos in 1992, when he was 10 days beyond his 57th birthday. Nine years later, he continues to enjoy the job. "Of course, I enjoy it," Alou said. "I remember Colin Powell once said, 'I'm a soldier.' I'm a soldier of baseball. I haven't done anything else in life. I left the University of Santo Domingo to become a baseball player. I'm still in uniform 47 years later. So I have to enjoy it. I don't think I would enjoy something else as much as I enjoy what I think I do best, which is being in a baseball uniform." Next week Alou begins the final year of his three-year contract with the Expos. At $ 2 million a year, he is one of the highest-paid managers. But as well as he is paid and as much as he likes the job, he did not respond with a quick affirmative when asked if he wants to continue managing. "I don't know," he said. "I'll see when it's over. I grew up having a one-year contract. When I was a player, all you had was one year, even in the winter league one year. In the minor leagues, for 20 years it was one year. This three-year thing, I couldn't believe it and all the money they're paying me. Will it be the money ? I don't need it. Something I want to do or reach ? Maybe the World Series. But I've already been there as a player. I don't have any urgency. When it is over, then I will see which way I'm going to go."
Alou accepted his contract with the Expos rather than jump to the Los Angeles Dodgers, whose high-spending ways would have supported him in a style to which he has not been accustomed. But a year into the contract, he gained a new boss, Jeffrey Loria, and speculation has risen that Loria would prefer another manager, especially one who made far less than $ 2 million. In fact, this winter according to a baseball official, Loria offered the Expos' bench coach job to Marty Scott, executive vice president of the St. Paul Saints, an independent league team, and when Scott balked at taking it, Loria enhanced the job. He told Scott, the official said, that if the Expos started out poorly or were going nowhere during the season, he would have a chance to replace Alou; if he made a change after the season, Scott would have the first interview. Scott opted to stay put. Loria denied he made such an offer. "I did have conversations with Marty during the year," Loria said, "but there was nothing about promises. No one can make promises into the future."

The Expos hired Rick Renick as their bench coach. Was he made any promises ? "That's between me and the Expos," he said. Loria, for now, is noncommittal on Alou's future with the team. Asked about possible contract extension for Alou, he said they would talk late in the season or at the end. Alou described his relationship with Loria as O.K., adding: "I'm not a big relationship guy. My biggest relationship is with the players. I don't have a whole lot of time to have a big relationship. I'm a person who spends most of the winter at home, where I'm supposed to be, in the Dominican Republic. It is hard to have a relationship. But I would say I have a good relationship with Jeffrey in the summertime."

Alou is well aware that he is the only Latin manager. He talked as if he might continue managing as long as no other Latino is hired to manage a major league team. "I don't see them lining up signing Latin managers," he said. "I'd like to see at least another Latin manager, or at least have a legitimate candidate."

by Murray Chass - The New York Times - 25 March 2001

Vermont Expos have produced 21 with Major League Experience
On April 28, 00, the Vermont Expos announced that they will remain a part of the Montreal Expos organization through at least the 2004 season, after extending the Player Development Conract between the two teams. The current Player Development Contract was set to expire at the end of the 2000 season. Vermont has been the short - season Single 'A' affiliate for the Montreal Expos since 1994. The Original contract was between 1994 -1997 which was followed by an extension from 1998 through 2000 before this latest extension, that is set to expire on September 30, 2004.
Seventy-three former Vermont Expos can be found spread throughout the rosters in the Montreal organization from the major league rosters down to single-A, the team announced with the release of their minor league rosters.

Including players on the disabled list, former Vermont Expos make up 50.7% (73 of 144) of the Expos roster in Montreal, Triple-A Ottawa, Double-A Harrisburg, Single-A Jupiter, and Single-A Clinton. Take out the disabled list and 66 of the 124 active players are former Vermont Expos (53.2%).

Seven former Vermont Expos are in Montreal and 10 are with Ottawa. Seventeen of 31 players in Harrisburg are former Vermonters, while 18 of 27 in Jupiter and 21 of 27 in Clinton. There are also eight Vermont Expos in extended spring training.

Montreal (7)

Michael Barrett '95
Geoff Blum '94
Milton Bradley '97
Orlando Cabrera '95
Scott Strickland '97
Mike Thurman '94
Andy Tracy '96


Ottawa (10)
Matt Blank '97
Donnie Bridges '98
Jamey Carroll '96
Tomas De La Rosa '96-97
Robert Marquez (DL) '95
Henry Mateo '97
Troy Mattes '95
Scott Mitchell (DL) '95
Talmadge Nunnari '97
Jeremy Ware '96


Harrisburg (17)
Brandon Agamennone '98
Scott Albin (DL) '99
Matt Cepicky '99
Chuck Crumpton '99
Scott Hodges '98
Kenny James '97
Albenis Machado '98
Mark Mangum '98
Brian Matz '96
Tootie Myers '98
Valentino Pascucci '99
Josh Reding '97
Jeremy Salyers (DL) '97
Jim Serrano '98
T.J. Tucker '98
Trevor Wamback '98


Jupiter (18)
Shane Arthurs '98
Jason Bay '00
Pat Collins '99
Anthony Ferrari '00
Troy Gingrich '00
Eric Good '99
Todd Johannes '99
Eddie Klepacki '99
Felix Lugo '99-00
Ralph McCasland '00
Josh McKinley '98-99
Randy Meadows '99
Lou Melucci '99
Julio Perez '97-98
Thomas Pittman '98
Chi Chi Rodriguez '98
Kris Tetz (DL) '98
Matt Watson '99


Clinton (21)
Chris Bye '00
Tony Caracciolo (DL) '99
Wes Chisnall '99-00
Benji DeQuin '00
Jose Docen '00
Grant Dorn '99
Phil Downing '00
Antonio Garris '00
Chris Humrich '99
Eric Langill '00
Luke Lockwood '00
David Lutz '00
Andrew McMillan '00
Jason Norderum '00
Danny Rombley '00
Vince Rooi '00
Michael Rose (DL) '00
Wilson Valdez '99-00
Ben Washburn '00
Brandon Watson '00
Clyde Williams '99

There are two other former Vermont Expos currently in the major leagues: CHRISTIAN PARKER '96, who was 7-1 with a 2.48 ERA in 14 starts for Vermont, with the N.Y. Yankees, and JOSE MACAIS, '95 with the Detroit Tigers.
Special to CANADIAN BASEBALL NEWS - April 10, 2001

EXPOS LAND ENGLISH RADIO DEAL
MONTREAL - The Montreal Expos today announced a two-year agreement with Toronto-based CHUM Limited to broadcast Montreal Expos baseball. The games will be aired on "The Team 990," an all-sports radio station which will start its operation in the Montreal market on May 7. The announcement was made by Expos' Executive Vice-President, David P. Samson. "The Expos are pleased to confirm that we have reached a mutually beneficial agreement with CHUM," said Samson. "This has been a long process and I am pleased that our Anglophone fans can now follow their team on a daily basis. The team still has a lot of exciting baseball to play and our agreement with CHUM ensures that our entire market now has the ability to listen to Expos baseball." An announcement will be made in the near future on the date of the first broadcast as well as which broadcasters have been selected by CHUM to handle the on-air duties. Today's deal completes a successful four-month process that has seenthe Expos create partnership agreements with both French and English radio and television as well as securing a new title sponsor.
Special to CANADIAN BASEBALL NEWS - 4-27-2001

TIM RAINES REJECTED IN OLYMPIC GAMES TRYOUT
TIM RAINES won't have the opportunity to make the United States Olympic Baseball Team, leaving it to just minor leaguers in their attempt to secure the gold medal at Sydney in September. The last of the former major league players under consideration for the squad, RAINES was rejected on 8-22-2000 by the selection committee, which gave no particular reasons. He would have turned 41 on 9-16-2000, one day after the official opening day of the 2000 Summer Olympic Games games in Australia. Recently he had played a few games in the independent ATLANTIC LEAGUE joining the SOMERSET PATRIOTS as a way of getting back into playing shape and also audition for the Olympic team scouts. Almost four months after retiring from the major leagues folowing his battle with Lupus he hoped to earn a berth on the Olympic baseball squad. "There are no guaranees. This is just an opportunity for me to make the team," he stated.
Special to CANADIAN BASEBALL NEWS - August 23, 2000
ANDRES GALARRAGA BROUGHT HIS ANGELS TO THE GYM
Something truly wonderful has been happening in Atlanta this baseball season, but unfortunately it has been obscured by the blather of John Rocker. Just turned 39, Andres Galarraga has bounced back from non-Hodgkins lymphoma, a form of cancer in his lower back. After a full year of inactivity and four months of rebuilding in the gym, he has made one of the great recoveries in the history of sports. "THE BIG CAT - it's a wonderful story," said JOE TORRE of the NEW YORK YANKEES, who is recovering from prostate cancer. "It gives hope to a lot of people with cancer. He lets people know there's life out there." If there is any justice in this world, Torre will be managing against Galarraga in the All-Star Game in Atlanta on July 11. Galarraga is currently second in the voting behind MARK McGWIRE, and his own manager, BOBBY COX, gets to fill out the roster. "It's a phenomenal happening," Cox said recently of Galarraga. "It's a tribute to medical science plus the strength of somebody's heart."

There are miracles all around us. We must never become jaded to the advances in heart bypass surgery, organ transplant, cancer treatment, joint replacement, techniques that were not available a decade or a generation ago. When they are personified in a very public man of grace like Galarraga, the message is as vivid as the pealing of bells. He had a backache at the end of the 1998 season, and his doctors discovered the lymphoma in the third lumbar vertebra in the lower back, and said he would need five months of chemotherapy and a short series of radiation. He was feeling well enough to join the Braves late in the 1999 season, and stay in uniform right through the four-game loss to the Yankees in the World Series. "He lit up the clubhouse; it was great for the club," BRIAN JORDAN said. "You pray for him. You can't explain what's happening. With his smile, you know angels are watching over him."

The doctors and his personal angels got him to a point last November, but then Galarraga had to push himself toward major league condition. "When I saw myself in the mirror, I didn't believe it," he said the other day. "I said, I have to lose weight." Once again, his angels were with him. Instead of going home to Venezuela in the winter, Galarraga went to Powerhouse Gym on Okeechobee Road in West Palm Beach, Florida. There he introduced himself to a muscular trainer named ERIC V. PETERMAN, a former social worker dedicated to "drug-free" body building. "I had no idea who he was," Peterman said on Monday. "I never really followed baseball. It turned out I had seen him discussing his illness on television but I never once made the connection." Peterman was neither a hero-worshipper, nor was he squeamish about working with a man recovering from cancer. "In my profession, I worked with multiproblem adolescents and later I worked with sexual abuse," Peterman said. "None of this stuff fazed me." Peterman had also worked out with members of the Cleveland Browns football club in his hometown, so he knew how hard he could push. "Professional athletes have a totally different passion from everybody else," Peterman said. "Their health and fitness are the key to their success. Without that, they have no career, no lucrative contract. I realized he's a pro. He wants to win. He wants to get back on that stage."

They worked out routines that would put no stress on the weakened bones and muscles in the lower back . At first, Galarraga was capable of a biceps curl with only the 45-pound bar; four months later, he was curling between 115 and 135 pounds. "He was also watching his diet, starting to run, then he went to the batting cage," Peterman recalled. "He would slam the ball and come back with a grin on his face like he'd discovered a new kind of candy." By February, Galarraga was in shape to report to spring training. Bobby Cox, moving at a newfound trot on his own surgically rebuilt knees, followed Galarraga out to a batting cage. "He shocked us," Cox said, "We had gotten WALLY JOYNER just in case, but Andres hit balls 500 feet the first day. We were going to take it easy, but he was in as good shape as anybody. The doctor said, 'Go ahead, keep going.' You don't know if he should take it easy. He dictated everything. He played as if everything was normal." Jordan recalled, "I came in early this spring. I saw him, you had to ask, 'Was he ever ill ? It couldn't happen to a nicer guy."

Galarraga got off to a strong start, and has never slipped. Going into last night's game in MONTREAL, he was batting .308 with 18 home runs and 55 runs batted in playing in 70 of the Braves' 75 games. He thanked Peterman by flying him up to a homestand and introducing him around their clubhouse. "I wanted to stay alive," Galarraga said recently. "I also wanted to be here with my glove and bat. I had to keep myself strong." His strength, both physical and mental, has been a marvel to those who have been paying attention. When the Braves arrive at Shea Stadium tomorrow, a warm salute for Andres Galarraga would be a perfect way for fans to exorcise the prejudiced toxins let loose by John Rocker.


MIGUEL BATISTA TRADED TO ROYALS FOR BRAD RIGBY
On April 25, the Montreal Expos acquired right - handed relief pitcher BRAD RIGBY from the Kansas City Royals for right - hander MIGUEL BATISTA. The announcement was made by JIM BEATTIE, Vice - President and General Manager of the Expos. Rigby, 26, was 0 - 0, with a 14.16 ERA ( 15 ER - 9.1 IP ) in five relief appearances with the Royals this season. The 6'-6", 215 pounder was 4 - 6, 5.06 ERA ( 47 ER - 83.2 IP ) in 49 appearances with the Oakland Athletics and Royals in 1999, after being acquired last July 31 in a four - player deal, along with BLAKE STEIN and JEFF D'AMICO, which saw KEVIN APPIER go
to the Athletics. Rigby is now a combined 5 - 13, 4.86 ERA ( 94 ER - 170.2 IP ) in 68 relief appearances in the majors since he made his debut with Oakland in 1997. Batista, 29, had appeared in four games for the Expos this season, logging an 0 - 1 record. In 8.1 IP of work he has allowed 14 runs, 13 earned, on 19 hits with three walks and seven strikeouts. The 6', 190 - pound hurler was 8 - 7 with one save and a 4.88 ERA in 39 games for Montreal in 1999, including 17 starts. He allowed 146 hits with 58 walks while fanning 95 in 134.2 innings of work. A native of Santo Domingo, in the Dominican Republic, he was originally signed by Montreal as a non - drafted free agent on February 29, 1988. He then had brief stints with Pittsburgh, Florida and Chicago before rejoining the Expos on December 12, 1997. He owns a major league record of 11 - 18 with a 4.81 ERA ( 327.2 IP, 355 H, 175 ER ).
Special to CANADIAN BASEBALL NEWS - April 25, 2000GEORGE VECSEY / Sports of the Times - The New York Times - Wednesday, June 28, 2000

Expos Broadcasts may now be heard over the internet in English
On April 18, the Monreal Expos announced that English broadcasts of games will be made available through the team's website, located at ---www.montrealexpos.com ---. The announcement was made by the new owner of the Expos, Jeffrey Loria and the Executive Vice - President, David Samson. Dave Van Horne, the voice of the Expos since the club's inception in 1969, will be calling all the action for these first internet - only game broadcasts for any professional sports franchise. To listen, log onto the Expos' website, then click on the "English " option before selecting" Live Audio Broadcast ". The English broadcast will be unique to the sports world, with the club introducing new interactive ways to get the fans more involved on a daily basis. In association with Major League Baseball, montrealexpos.com looks forward to welcoming many listeners to their English language broadcasts during this 2000 season, with history in the making.
Special to CANADIAN BASEBALL NEWS - April 18, 2000

DEVIL RAYS FIRE PITCHING COACH RICK WILLIAMS
The TAMPA BAY DEVIL RAYS, who have allowed a whopping 72 runs in eight games, on Wednesday fired pitching coach RICK WILLIAMS. BILL FISCHER, who served in the same capacity for the RICHMOND BRAVES, the Triple-A affiliate of the ATLANTA BRAVES, was named to replace Williams, Tampa Bay's pitching coach since the team's inception. "Rick worked very hard as our pitching coach, we just weren't getting the results," said manager LARRY ROTHSCHILD. "Fischer brings us a lot of experience and has been a very successful major league pitching coach."

The Devil Ray's were among baseball's busiest teams in the off-season, adding sluggers VINNY CASTILLA and GREG VAUGHN to an already potent offense, which includes FRED McGRIFF and JOSE CANSECO. Tampa Bay also signed pitchers JUAN GUZMAN and STEVE TRACHSEL, but the staff has allowed double digits in runs four times, including 13 in Tuesday's loss to the WHITE SOX.

The 43-year-old Williams is the son of former major league manager DICK WILLIAMS and was in his 20th season as a coach. Williams spent five years in the FLORIDA MARLINS organization before joining the Devil Rays. He worked under Larry Rothschild as the Marlin's assistant pitching coach in 1995 and 1996 and was their minor league pitching instructor during the club's first two years of operation in 1993 and 1994. Fischer, 69, was a player, scout, roving instructor or pitching coach for a major league organization every year since 1948. He was in his ninth year with the Braves and was the pitching coach in Richmond since 1994. He spent 12 seasons as a pitching coach in the majors with the CINCINNATI REDS, 1979 through 1983, and the BOSTON RED SOX, from 1985 through 1991.

REUTERS - April 12, 2000

TIM RAINES FORCED INTO RETIREMENT BUT HE WILL RETURN SOMEDAY
TIM RAINES knew that his playing days might be over even though he longed to sit on the bench in uniform one last time. "I guess we all have an alarm go off when it's time for your career to end, and I felt like my alarm went off two weeks ago," he said in the NEW YORK YANKEES dugout at LEGENDS FIELD on 3-22-2000. The alarm sounded when he fouled back a fastball he normally would have crushed. In the graceful, cheerful and gentle way that marked most of his 21-year career, he announced his retirement before an exhibition game with the BOSTON RED SOX in Tampa. RAINES, at 40, had been hopeful of coming back in 2000 from his fight with Lupus, hoping to last long enough in the big leagues to play with his son, TIM RAINES, JR., a BALTIMORE ORIOLES minor leaguer, who stole 49 bases in 1999 for their Class 'A' farm team, the DELMARVA SHOREBIRDS. But he realized that he no longer had the bat speed to play to his satisfaction. "I didn't know if I had a chance to make this team or not," he stated. "But even if I did, I didn't feel like I could play the season at a level that I wanted to play at."

So, RAINES, fifth all-time on the career steals list with 807, held a brief news conference with the media, informed his teammates of his intentions in a quick get together, then, as his teammates ran from their positions to stand behind him on the mound, he threw out the ceremonial first pitch before the game, which was followed by hugs and handshakes one last time. After that, he and his wife, Virginia, drove off to Sarasota to watch TIM JR.'s minor league exhibition game. His impact in the YANKEES history book may not have been huge, however his impact in their clubhouse in the 1990's loomed large. "Probably the most upbeat, positive player I've ever been around," DAVID CONE said. "Day in, day out, always laughing, always enjoying himself. He had the right attitude. We should all be more like that." Some players need to have the uniform ripped off their backs, TIM RAINES left happily, barely lingering. A man he had hired videotaped his farewell speech to his teammates, his hugs goodbye, but he already had savored his final moments as a player earlier in the week. He had told manager JOE TORRE of his retirement plans in a meeting but explained that he wanted two more days to wear the YANKEES uniform, two more days to experience the camaraderie on the bench and in the clubhouse, two more days to be a big leaguer.

Appearing to have recovered from Lupus, he came to spring training because he didn't want to have the disease, in which the immune system turns against the body, end his career. "I didn't want to go up and remember the last at-bat I had was against a guy throwing 100 miles an hour and he's throwing it past me," he said. "Just being able to sit on the bench with the guys one last time, I think that night game was sort of special because it sort of reminds me of a regular season...I wanted to just relish in that moment. I knew when I took my uniform off that night that was going to be it. As for his career, he's done so much, RAINES said the highlights were the two World Series rings he won with the YANKEES. And, probably this spring. "I came back because I didn't really want to be known as a player that spent 21 years in professional baseball and had to retire because he had a disease. This had nothing to do with my physical ability or my illness. Right now, I'm in as good shape as any 40 year old can be. I don't have any aches and pains, " he related. "I felt like I accomplished what I sought out to do, which is to come back and show I could still play the game. If I couldn't perform at a certain level, I didn't think I deserved to be out there playing."

RAINES also said he has no regrets, no unreached milestones that will gnaw at him. He would have liked to play at the same time as his son and he would surely love to be elected to the Baseball Hall of Fame. His lifetime stats will surely get him some consideration but election is no sure thing these days. "If I don't," he said, "it won't be something that I'll be upset about." He made seven straight All-Star Game appearances (1981-1987) and compiled a .295 career average over these last 21 seasons with the MONTREAL EXPOS, CHICAGO WHITE SOX, NEW YORK YANKEES and OAKLAND ATHLETICS. Finished with 168 home runs, 1290 RBI, and in steals, trails only RICKEY HENDERSON (1340 and counting), LOU BROCK (938), BILLY HAMILTON (937) and TY COBB (892). He overcame a drug problem in 1983, then overcame collusion. When teams refused to sign free agents, he was forced to return to the MONTREAL EXPOS. In his first game back that May 1, he tripled off DAVID CONE on the first pitch he saw and went on to go 4-for-5, including a 10th inning grand slam off JESSE OROSCO. He swiped 70 or more bases in each of his first seven seasons. While there may not have been a place for him on this year 2000 edition of the YANKEES he could easily have latched on with another team. "I think he could have played and not embarrassed himself this year," JOE TORRE offered. "I think he didn't want to go anywhere. That probably made his decision easier for him." Now, TIM RAINES intends to take this year off and watch minor league and high school games. He hopes to return in management, possibly as a major league coach - if YANKEES owner GEORGE STEINBRENNER wants him. "Hopefully, George will have an opening for me somewhere down the line," RAINES remarked. "I'm not sure in what capacity." Thanks, TIM, you were definitely one of the greats every year you were out there in uniform and you will be missed.


Special to CANADIAN BASEBALL NEWS - March 23, 2000


WEST PALM BEACH EXPOS ALL-TIME HONOR ROLL
1969 THROUGH 1997
BERNIE ALLEN - ISREAL ALCANTARA - FELIPE ALOU - TAVO ALVAREZ
BILL ATKINSON - DEREK AUCOIN
BOB BABCOCK - STAN BAHNSEN - BOB BAILEY - BRET BARBERIE - BRIAN BARNES
MIGUEL BATISTA - LARRY BEARNARTH - ESTEBAN BELTRE - TONY BERNAZARD
DENNIS BLAIR - MIKE BLOWERS - DOUG BOCHTLER - KENT BOTTENFIELD
DENIS BOUCHER - RON BRAND - FRED BREINING - BILLY BREWER
CURT BROWN - CURTIS BROWN - JOLBERT CABRERA - ORLANDO CABRERA
CASEY CANDAELE - GARY CARTER - CRAIG CASKEY - NORM CHARLTON - GREG COLBRUNN WILFREDO CORDERO - REID CORNELIUS - SEAN CUNNINGHAM
JACK DAUGHERTY - CHARLES ' BOOTS ' DAY - RICK DeHART - TIM DIXON - DON DeMOLA JOHN DOPSON - HAL DUES
JOEY EISCHEN - RICK ENGLE - TERRY ENYART - BRIAN EVERSGERD
STEVE FALTEISEK - HOWARD FARMER - JEFF FISCHER - CLIFF FLOYD - TIM FOLI
BARRY FOOTE - KEVIN FOSTER - LOU FRAZIER - PEPE FRIAS - JERRY FRY
MIKE FUENTES - BRAD FULLMER
DAN GAKELER - ANDRES GALARRAGA - MIKE GATES - BOB GEBHARD - JOE GILBERT
WAYNE GRANGER - DICK GRAPENTHIN - DAVID GRAYBILL - WILLIE GREENE
MARK GRUDZIELANEK - VLADIMIR GUERRERO - BILL GULLICKSON
GERALD HANNAHS - GENE HARRIS - RODNEY HENDERSON - CESAR HERNANDEZ
JOE HESKETH - HAROLD ' GOMER ' HODGE - BRIAN HOLMAN - DAVE HOSTETLER
TERRY HUMPHREY - JEFF HUSON
TIM IRELAND
BOB JAMES - DAVE JAUSS - ANTHONY JOHNSON - RANDY JOHNSON
ROY JOHNSON WALLACE JOHNSON
JOE KEENER - BRYAN KELLY - JOE KERRIGAN - RAMSEY KOEYERS
MARCEL LACHEMANN - TIM LAKER - LARRY LANDRETH - CHIP LANG - CHARLIES LEA BRYAN LITTLE - RICHIE LEWIS - BRIAN LOONEY - MIKE LOYND - GARY LUCAS
ERNIE McANALLY - RODNEY McCRAY - PEPE MANGUAL - HENSLEY MEULENS
BRAD MILLS - BALOR MOORE - BILL MOORE - PAT MULLIN - DALE MURRAY
GLENN MURRAY
ROB NATAL
JACK O'CONNOR
ALEX PACHECO - DAVID PALMER - JOSE PANIAGUA - JOHNNY PAREDES - LARRY PARRISH MIKE PARROTT - BOB PATE - YORKIS PEREZ - JOE PETTINI - TONY PHILLIPS - DOUG PIATT ALONZO POWELL - CURTIS PRIDE
TIM RAINES - BOBBY RAMOS - STEVE RATZER - SHANE RAWLEY - BOB REECE - NICKO RIESGO - JESUS ' BOMBO ' RIVERA - LUIS RIVERA - BERT ROBERGE - TOM ROBSON
MEL ROJAS - PAT ROONEY
RANDY ST. CLAIRE - ARGENIS ' ANGEL ' SALAZAR - SCOTT SANDERSON - FRANK PAUL 'F.P.' SANTANGELO - NELSON SANTOVENIA - PAT SCANLON - DAN SCHATZEDER - CURT SCHMIDT TONY SCOTT - RAY ' RAZOR ' SHINES - JOE SIDDALL - BRYN SMITH - MATT STAIRS
MIKE STENHOUSE - EVERETT STULL
JEFF TABAKA - WILFREDO TEJADA - J.J. THOME - MIKE THURMAN - JOHN TRAUTWEIN
UGUETH URBINA
SERGIO VALDEZ - ELLIS VALENTINE - JOHN VANDER WAL - JOSE VIDRO
DAVID WAINHOUSE - LARRY WALKER - TOM WALKER - GARY WAYNE - NEIL WEBER
GABE WHITE - JERRY WHITE - RONDELL WHITE - TOM WIEGHAUS - BILLY WYNNE
PETE YOUNG
MANAGERS - COACHES - INSTRUCTORS - TRAINERS - PLAYERS - who have been assigned to the WEST PALM BEACH roster and / or staff who have appeared in at least one (1) MAJOR LEAGUE BASEBALL game from 1969 through the 2000 season for the MONTREAL EXPOS or in any other organization.....The WEST PALM BEACH EXPOS ceased operations at the end of the 1997 FLORIDA STATE LEAGUE season and have now had a name change to the JUPITER HAMMERHEADS and their home games are played at ROGER DEAN STADIUM in JUPITER, FLORIDA.
Please report all errors of omission to – www.canadianbaseballnews.com
CANADIANS
BILL ATKINSON - DEREK AUCOIN - DENIS BOUCHER - LARRY LANDRETH
JOE SIDDALL - MATT STAIRS - DAVID WAINHOUSE - LARRY WALKER