CINCINNATI, Ohio – Thursday 12 April 2018 –

Before the Thursday series opener against the visiting St. Louis Cardinals, the last time someone not named JOEY VOTTO started at first base for the Cincinnati Reds was IVAN De JESUS JR on 2 September 2016, also against the Cardinals.
A streak of 202 starts and games played, including all 162 games of 2017, came to an end when Votto was given a day off from Cincinnati's starting lineup Thursday. It was not for health reasons, but rather to give him a rare break.
" We talked about it in Spring Training," Reds manager BRYAN PRICE said. " There's certainly a point in time when we've got to look at some scheduled days off. I talked to him about it and decided this would be a good one. It's something moving forward that he'd have access to like the rest of our players. He's our most established player. He's our oldest regular. I've asked a lot of him. He plays a lot. I'm trying to be smart and keep him healthy and feeling great throughout the season."
Following their 12-inning loss at Philadelphia on Wednesday, Votto was also given permission to arrive late to Great American Ball Park.
ADAM DUVALL, normally the Reds' left fielder, started at first base in place of Votto while JESSE WINKER got the start in left.
According to the Elias Sports Bureau, Votto's streak of starts was the longest games-started streak for the Reds since PETE ROSE started 370 consecutive games from 1973-1976. During his streak, Votto played 1,733 1/3 of the Reds' 1,782 1/3 innings in the field.
Votto's games-played streak was second among active players behind Kansas City Royals shortstop ALCIDES ESCOBAR, who is at 342 games and was the only player besides Votto last season to start all 162.
Days out of the lineup have long been rare for Votto, who played 158 games in both the 2015 and 2016 seasons and 162 games in 2013 while some injuries limited him to only 62 games in 2014.
" He understands and appreciates the value of being in the lineup every day," Price said. " In the same respect, in order for him to be productive and stay productive, we do need to look at this. He'll turn 35 in September. That doesn't mean anything as far as his ability to be a productive player well into his 30s. But asking him to take on the biggest workload, which I asked him to last year, I don't think it's reasonable to think we're going to do that over the duration of his contract."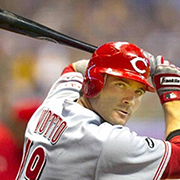 CINCINNATI, Ohio – Thursday 12 April 2018